I saw most games this week as non competitive playoff teams separating themselves from the bottom of the cellar. But I did not feel confident and took this week off, like a team resting their players for the upcoming championship playoff, I feel more confident in my college bowl picks. Week 15 in the NFL saw mostly close games with teams eliminated from playoff contention playing with something to prove. The time of this post is past the start of the Monday Night game, but I have the DVR set and the bet set and have yet to start watching. I do not think I can defend the BCS system but there is something special about the college football season. Every game is amplified because there is post season to determine the true winner, only some bowl games. But it seems again that we have the two best teams in the championship bowl game again this year and yes other undefeated teams can make a case about not being able to have a shot at the tile. Anyway, in many ways, college football is more entertaining than professional.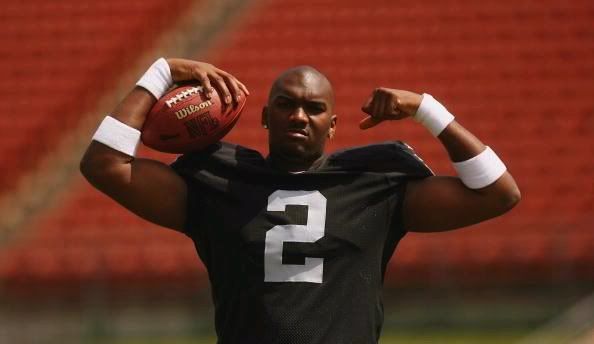 The Raiders found a way to win in a tough division rivalry game with a contending Broncos team. The Browns, who hired Mike Holmgreen as head of football operation, put up a huge 41 points against the struggling Chiefs. Jamarcus Russell relived Charlie Fry then got knocked out, they put in Lossman who got his bell rung, then Russell made the most of this opportunity the Oakland defense provided. Michael Bush pounded the Denver defense over 130 yards and the Raiders looked almost like a contending team, certainty an inspiring victory. The 49ers and Alex Smith sank in perceptions of being contenders. Coming off a huge win at home against Super bowl runner up, Arizona, they disappointed but their quarterback might of shown he is not worthy of his draft status. The 49ers game seemed closer than it should. Arizona struggled early but found a way to win against Detroit with back up Q.B. Moore playing surprisingly well. Most surprisingly the Minnesota offense line got man handled and the Vikings could not run the ball or establish a passing game.
NY Giants -3 At Washington
The Monday night game is going to be more than hard hitting, jobs are at stake, careers are in jeopardy and playoff hopes can be dashed. The Giants must win to have a chance at the playoffs. Rumors have it that the coach of Washington might be kept only if they can compete with their rival New York. The same can be said for the quarterback Jason Campbell who has seemed to get better but his team continues to slide. The Giants have not been the same team since Plexico shot him self. His threats of the fade jump ball and down the field air bomb have still left the Giants looking for a play maker. Eli Manning might be able to win this game but does not stands a chance against a team like the Eagles who have a couple of deep threats. Skins by four.
MAACO LAS VEGAS BOWL
BYU +2.5 OREGON STATE -2.5
Oregon State is fast, and has play makers all over the field. Their speedy running back Rodgers has 20 touchdowns on the season. BYU is making their fifth consecutive appearance in the same bowl for the first time since going to the Holiday Bowl from 1978-84. They are led by quarterback Max Hall who can throw the ball and has 30 touchdowns on the year. The combination of good quarterback play and ball control should make this a highly competitive ball game, maybe high scoring.
SAN DIEGO COUNTY CU POINSETTIA BOWL
UTAH +3 CALIFORNIA -3
Cal had high expectations coming into the season but their quarterback struggled, they had some injuries and disappointed in a competitive PAC 10. The Bears are looking to build on something for next year and must come away with a victory to seem confident about next years chance to be competitive in the PAC 10. The No. 23 Utes try to extend the nation's longest post season winning streak to nine when they face the Golden Bears. Utah had huge hopes after beating No. 4 Alabama in the Sugar Bowl to finish second in the final rankings but struggled and freshman Joran Wynn took over at quarterback. Cal quarterback Riley will use this game to redeem himself for the performance of the Cal bears this season. Utah will keep it close with good defense but Cal will take control and use their speed to take away scoring opportunities, and will win by a touchdown.
SHERATON HAWAII BOWL
SOUTHERN METHODIST-13 NEVADA +13
Before hiring June Jones, the SMU Mustangs had gone 58-153-3 under four coaches and posted one winning record, 6-5 in 1997. Jones, who led Hawaii to the Sugar Bowl in his ninth and final season there, couldn't break that losing trend in his first year at SMU and finished 1-11. Coming into this season, SMU coach, Jones told his team he wanted to reach the Hawaii Bowl as a tribute to friend and special teams coach Frank Gansz, who died April 27. During the season, Jones reminded them at least "every three or four weeks" of that goal. The locales in the Lake Tahoe are high on their Nevada Wolfpack and standout junior quarterback Colin Kapenick who passed for 1875 yards and ran for another 1160 during this past season. The SMU passing game has not been a huge threat, but the Nevada defense is near the bottom of the nation in pass yard given up per game. This game looks lake a high scoring barn burner but the over might be too high for these schools. The Wolfpack by a touchdown.
LAST WEEK 2-3
SEASON: 40-29