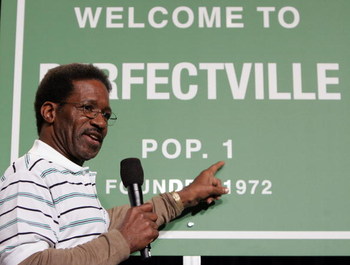 By the end of the weekend the 1972 Dolphins might be clinking their champagne glasses as both undefeated teams could loose in tough match up this weekend. Surprisingly Tennessee has found out how to win some games. The Titans defense has gotten healthy and playing with a chip on their shoulder. Vince Young is playing like his draft number, and the Skins lost in a tough NFC East match up and see an opportunity to redeem their season. Both teams are on up set alert. How pissed is Houston? It seems to be Manning's year but can he keep pulling these games out so close?

New Orleans -9

At Washington
I told you one the undefeated teams will loose this weekend. The Redskins defense looked like it could slow down the Saints and pressure Brees. This is a recipe for slowing down an offense that potent. The big D tackle, Hayesworth will disrupt, the Skins have everything to prove especially quarterback Campbell and coach Zorn, who needs a big victory to hang his hat on.
San Francisco -1 At Seattle
This is the only game on television in the Afternoon. Maybe thats why I am wagering, to make it interesting. Two average teams searching for victory. Alex Smith should be interesting to see stumble or succeed. What a redemption story if he can play like a pro. But the Seahawks have the 12th man, the house will be loud and Smith could get rattled because the 49ers are expecting to win this this and keep their play off hopes alive. I am going to bet on the veteran Q.B. Hassellbeck. Whose season has been hampered due to injury.
Philadelphia -4.5 At Atlanta
Matt Ryan has been playing like the young quarterback he is. The Falcons struggled against the Bucs last week. McNabb will utilize the the young, fast receivers to energizer a few big plays, control the ball will the short passing game and win by a couple of touchdowns.
San Diego -14 At Cleveland
The Browns played a trough game against Cincy. San Diego destroyed an anemic Chiefs team. The Chargers are looking for a division title and have higher expectations. The Browns should not be any kind of a test. But the Dog pound will be barking and will inspire the team and two touchdowns are a lot of points in the NFL. Chargers by a touchdown.
Dallas -1.5 At NY Giants
Fighting for their playoff dreams the Giants will win this by a few scores. Romo will get rattled in the cold and will fold like a flower at New York. Do not be surprised if he fumbles a snap or throws a pick. The Giant defense will get after Romo and disrupt his rhythm.
LAST WEEK: 5-0
SEASON:33-26