As I put myself out for public consumption, I sometimes worry what others think or loose confidence, today when I got that feeling, I thought of a certain movie I love, Good Time Max.
"Even the most seemingly random events, have logic behind them. As far as my life goes, I know exactly what I'm doing. Geniuses don't make mistakes, they' just instigate their own problems, so that they could be worked out with deeper insight."
Although I believe some things cannot be explained, I have the same feeling Rocket Max does. I know what I am doing, I do it great, and any mistakes or obstacles I encounter, I will deal with in the way I deal with things, much insight, thought and reflection. The Inaugural Mike From Hayward NFL Weekly Picks will lead with the preview of the Oakland Raiders and the AFC West.
The Oakland Raiders success this season rests on the arm of their young quarterback Jamarcus Russell.
AFC WEST

OAKLAND 7-8
KANSAS CITY 6-10
DENVER 5-11

They will be able to run the ball with their decent and improving offensive of line. Look for the work horses Darren McFadden, Michael Bush and the old man, Justin Fargas. Greg Papa has refereed to these talented backs as the three headed monster, seems like a fitting nickname. The real question this and in the coming years, is the speedy but untested hands of receiver Darrius Heyward-Bey. The Raiders have a lot of potential, but coaching, routine and discipline win NFL championships and the Raiders program has been unstable and questionable for years now. The acquisition of Richard Seymour will greatly improve their defensive if Al Davis can convince him to play. Their is hope because Denver traded away their quarterback and is feuding with their stud wide-out, Kansas City and Castle need to prove they can win. The last time I checked the Chargers still have L.T. This and Sean Merriman's return will lock up the division for San Diego.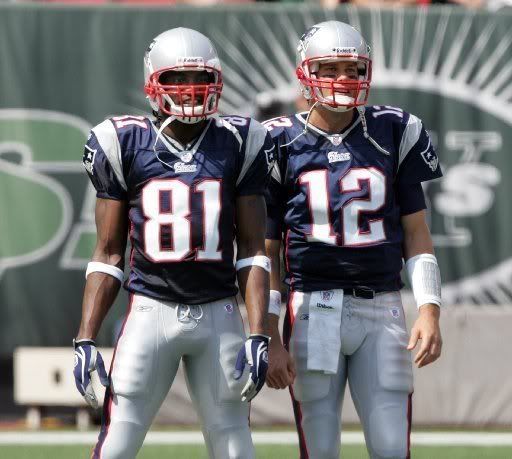 These two will be prepared for an undefeated season. Does anyone else have a chance?
AFC EAST

NEW ENGLAND 12-4
MIAMI 10-6
BUFFALO 10-6
NEW YORK 6-10

Tom Brady will return to his MVP level preform probably more than midway through the season. The patriots won 11 games without him, they are one of a few teams to be a lock to win their division. Miami and Buffalo will be competvite and challenge the Patriots but neither have the talent and coaching to overtake Bradys crwon.
Terrell Owens will be the funnest thing to watch in this divsion, what is the over under for him throwing Trent Edwards under the bus? 3 Weeks? 3 plays where he thinks he was open? I just hope their season is better than the T.O. show.
AFC NORTH

BALTIMORE 12-4
PITTSBURGH WC 11-5
CINCINNATI 8-8
CLEVELAND 7-9


The hardest thing to do in football is not to win a championship, but to repeat as champions.
Look for Pittsburgh to compete hard but to make mistakes and week in and week out the competition will ready for the defending Champions. That, Ray Lewis and a confident Joe Flacco, will lead the Ravens to the division championship. Hard Knocks showed a Bengals team fighting to just compete
AFC SOUTH


INDIANAPOLIS
13-3
TENNESSEE WC 11-5
JACKSONVILLE 9-7
HOUSTON 8-8


Look for Peyton Manning to storm through this division. Tennessee will be their greatest challenge but a fragile Kerry Collins and Vince Young will hold the Titans back. Jacksonville and Houston will tough to beat and great divisional games to watch. The loss of Albert Haynesworth will hurt the Tennessee
defense and you can add a couples of losses if the defensive tackles do not set up and stop the run.
The NFC Preview will be tomorrow.
LOCKS OF THE WEEKS
TITANS AND THE 6 1/2 POINTS

As with any degenerate gambling preview of the season, I will start off with my lock of the week. The game of the week. at Pittsburgh
vs. Titans. The Steelers are 6 and 1/2 point favorites. I do not think the Titans can outright beat the Steelers and this is what sports betting is all about. The Steelers will be running the ball a lot, exploiting and testing the void left by Haynesworth. If the Titans cover the spread and do not win, it will worse than betting all the football and baseball games labor day weekend in Reno and not winning one. The closest we got was a 4 team parlay that the Dodgers could not close on the Sunday Night Baseball game.