I am a little hot this morning, things seem to be boiling, heating up. I apologize for the swearing in advance, but in matters of crisis and heated moments it is what I revert to. What I am hoping that is happening, is the opposition is starting to crack! They are freakin NUTZO! Blood covenants, death panels and dead grandmas? Sounds like a terrible rap album.
THEY WILL SAY ANYTHING TO PROTECT THEIR CORPORATE POWER!!!
DAMN GOOD LIARS

Senate Minority Leader Mitch McConnell, Presidential failure John McCain, Kit Bond, George Voinovich, and Roy Blunt
are all fierce opponents of health care reform, I prefer to call them proponents of Fascism. These scumbags have the last ring of hell reserved for them. How do they keep straight faces when speaking in public? These elected leaders are using the system they are trashing. These scumbags, have major operations or other procedures at publicly funded hospitals!! How can you not support a program you take advantage of??? More bizarro world proof!!!
But I forget they do not work for us, they are fascists, elected by the top 1 percent. They work to protect the profits of a few individuals and corporations at the determent of the greater population.
9th point of FASCISM

Corporate Power is Protected: The industrial and business aristocracy of a fascist nation often are the ones who put the government leaders into power, creating a mutually beneficial business/government relationship and power elite.
Are people actually believing this nonsense? I guess, since it is a well funded, well connected opposition we are up against. Health insurances companies are gouging me and most Americans. They will do anything to keep the status quo and keep their absurd profits. They confuse and encourage despair by asserting BLUE DOGS, GANG OF SIX will die before health care passes!
Bachmann: "What we have to do today is make a covenant, to slit our wrists, be blood brothers on this thing. This will not pass. We will do whatever it takes."

No, this crazy whore is not fighting the devil, I believe she thinks that, but thats another conversation, another day.
She is protecting corporate power, enraged by Savages, I mean WEINERS!!!

Numbers nine and ten on the fourteen points of fascism line up perfectly in this instance. insuring every citizen in America will lead to a better, more healthy workforce, and most important for businessman, a more productive workforce. So we live longer, more babies survive but these fascists are not concerned with compassionate things like this, they are concerned with maximizing profits and shareholders dividends not creating a functional society for all but a society who protects the top 1 percent at any cost.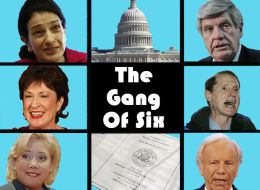 Well welcome to FUCKIN GOOD OLE FASCIST AMERICA!!!!
Where we choose who to go wage war against, where the majority of the top one percent of wealthiest will do anything to protect their friends. Senators, governors are fighting tooth and nail to derail and protect the absurd profits the health insurances reap at our expense.
So you think we have two parties working for the country? One would think in this time of crisis, where 60% of people going bankrupt because of the expensive health care costs, our prominent elected officials would be working to solve the problem.
Nope!
Not in America. Sure we have our horses in the race, a lot of great people are doing great things around the health care problem. But I must ask WHAT WE ARE ALL THINKING!
WILL IT BE ENOUGH TO OVERCOME THE FORCES WHO SEEK TO RESTORE A FASCIST STATE BACK HERE IN AMERICA